Chocolate Fountain Rentals

​

Some companies have hidden fees such as parking or mileage fees
They charge you extra if your event is in Manhattan!
They have 

Mandatory

 Gratuity fees!
These fees can add up to hundreds of extra dollars!

One Low Price means One Low Price!

No Mileage Fee!
No Parking Fee!
 No Manhattan Fee!
     No Mandatory Gratuity Fee!   


1-646-244-7677

Don't be fooled by other companies "free" cotton candy or popcorn giveaway's. 
 Compare our prices to theirs and you'll see that "free" add on, is going to cost you over $100.00!



Chocolate Only Package
For Only $349.99+tax ​​

Traditional Fountain or 

New

 Cascading Fountain
This package includes:
-Your choice of Milk, Dark or White Chocolate 
-Delivery, Set up, and Clean up of Fountain 
-One Professionally Dressed Attendant
-One 34' High, Sephra Fountain
-3 Hours of Continuous service
-20lbs of Belgian Chocolate 
-200 Bamboo Skewers 


This Package does not provide dippable food items
Attendant will serve your guests if wanted
This Package serves up to 150 guests


​​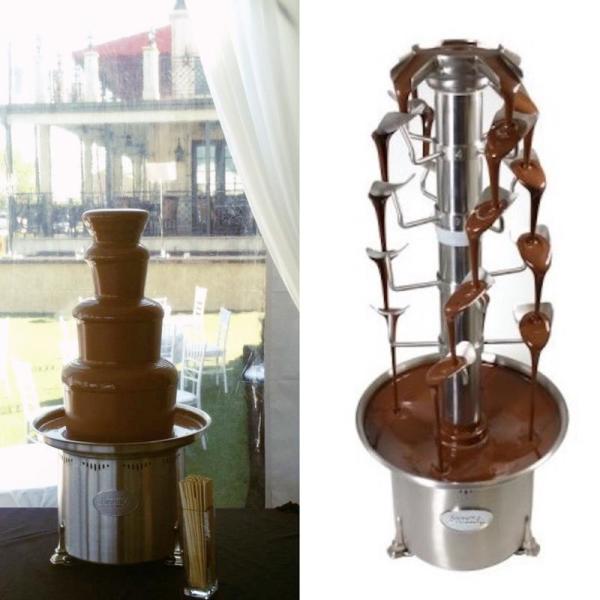 Deluxe Package
For only $399.99+tax​​

Traditional Fountain or 

New

 Cascading Fountain
 This package includes:
-Your Choice of Milk, Dark or White Chocolate 
-Delivery, Set up and Clean up of Fountain 
-One Professionally Dressed Attendant 
-One 34 inch High, Sephra Fountain
-3 Hours of continuous service
-20lbs of Belgian Chocolate 
-Skewers And Dippables for up to 60 guests
($1.00 per person over 60)

-10 Dipping items included:
Fresh Strawberries, Bananas, Cherries 
Fresh Pineapple(Never Canned), Oreo's,
 XL Pink & White Marshmallows, Chips Ahoy, 
 Rice Krispies,Twizzlers & XL 7' Pretzel Rods
​​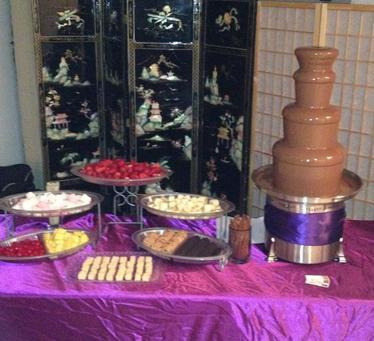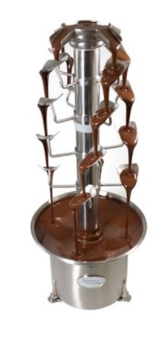 Premium Package
For only $499.99+tax ​​

Traditional Fountain or New Cascading Fountain 
This package includes:
-Your choice of Milk, Dark or White Chocolate 
-Delivery, Set up, and Clean up of Fountain 
-One Professionally Dressed Attendant 
-One 34 inch High, Sephra Fountain 
-3 hours of continuous service
-20lbs of Belgian Chocolate
-Skewer & Dippables for up to 150 people 
($1.00 per person over 150)

-14 Dipping items included:
Fresh Strawberries, Bananas, Cherries,
Fresh Pineapples (Never canned), Rice Krispies         Twizzlers, Graham Crackers, Pretzel Rods 
XL Pink & White Marshmallows, Chips Ahoy, 
 Vanilla & Strawberry Sugar Wafers, Oreo's 

​​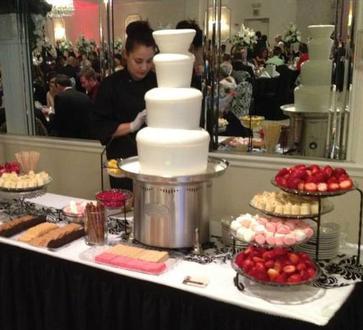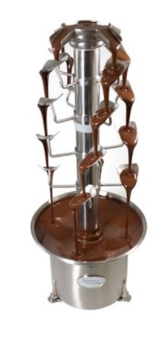 Supreme Package
For only $549.99+tax ​​

Traditional Fountain or 

New

 Cascading Fountain
This Package includes:
-Your choice of Milk, Dark or White Chocolate 
-Delivery, Set up, and Clean up of Fountain 
-1 Professionally Dressed Attendants
-One 34 inch High, Sephra Fountain 
-3 Hours of continuous service
-20lbs of Belgian Chocolate
-Skewers & Dippables for up to 200 people 
($1.00 per person over 200)

17 Dipping items included:
Fresh Strawberries, Bananas, Cherries, ​​

 Pineapples (Never Canned), Oreo's, Biscotti,  
Rice Krispies, Vienna Fingers, Pretzel Rods,  
Vanilla & Strawberry  Wafers, Chips Ahoy,
XL Pink & White Marshmallows, Twizzlers, 
Honey & Cinnamon Graham Crackers, 
​​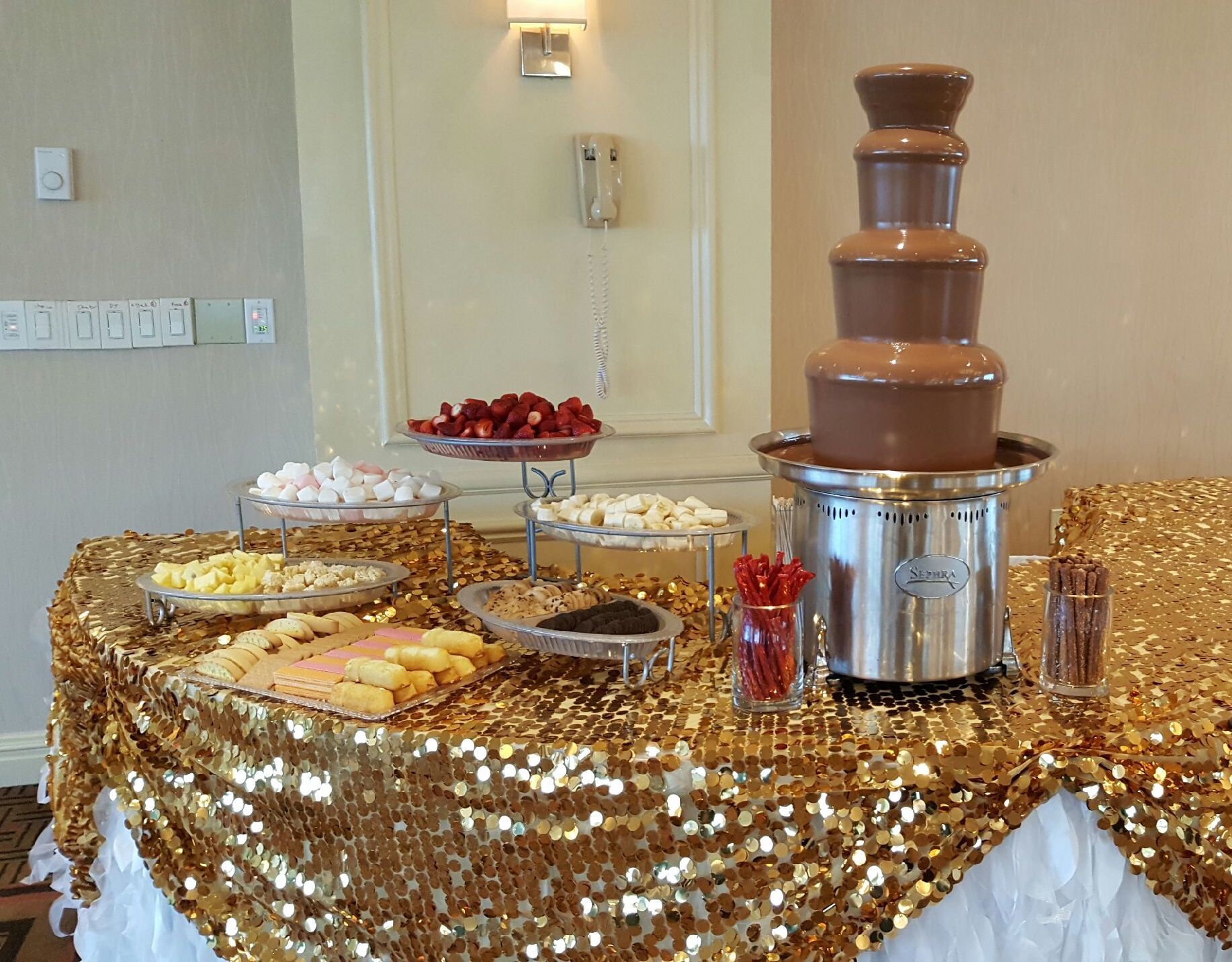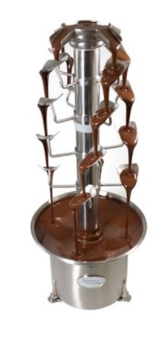 Platinum Package
For only $624.99+tax
Traditional Fountain or 

New

 Cascading Fountain
This Package includes:
-Your choice of Milk, Dark or White Chocolate 
-Delivery, Set up, and Clean up of Fountain 
-2 Professionally Dressed Attendants
-One 44 inch High Sephra Fountain
-3 hours of continuous service
-25lbs of Belgian Chocolate
-Skews and Dippables for up to 300 people 
($1.00 per person over 300)

22 Dipping items included:
Fresh Strawberries, Bananas, Cherries
Fresh Pineapples(Never Canned),Pretzel Rods,   
Chips Ahoy, Twizzlers, Rice Krispies Treats 
Twinkies, Biscotti, Cream Puffs, Vienna Fingers, 
Vanilla & Strawberry Sugar Wafers, Oreo's 
Honey & Cinnamon Graham Crackers, 
Lemon, Banana, & Butter Pound Cake,
 XL Pink & White Marshmallows &
​​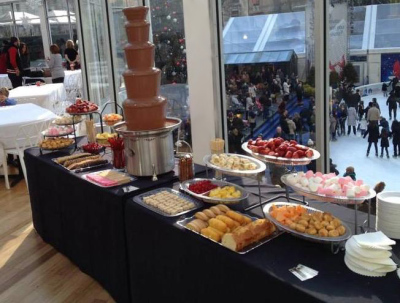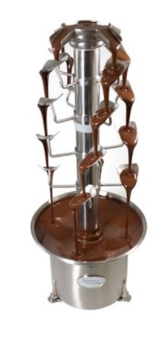 Ultimate Party Package
For only $899.99 + tax this Package includes:
-Your choice of Milk, Dark or White Chocolate
-Delivery, Set up, and Clean up of Fountains
-3 Professionally Dressed Attendants
-Two 44 inch High Sephra Fountains
-3 hours of continuous service
- 30lbs of Belgian Chocolate(Each Fountain)
-Skews and Dippables for up to 400 guests
($1.00 per person over 400)

30 Dipping items included:
Fresh Strawberries, Bananas,
 Fresh Pineapple (Never Canned), Cherries,
Fresh Cantaloupe, Honey Dew, Apple Slices, 
 Pretzel Rods, Twizzlers, Chips Ahoy, Twinkies,
XL Pink & White Marshmallows, Nilla Wafers,
​
Oreo's, Potato Chips, Golden Oreo's
Honey & Cinnamon Graham Crackers,
Vanilla & Strawberry Sugar Wafers, 
Cream Puffs, Vienna Fingers, Nutter Butters, 
Sugar Cookies, Biscotti, Coconut Cookies
Plain, Lemon & Banana Pound Cake, 
​​